Disclosure regarding our editorial content standards.
Applying for a credit card is a lot like applying and interviewing for a job. You need to do your research, make sure you're a fit, meet all the requirements, and then wait on a verdict. All of this can be overwhelming. Read on to learn more about how to apply for a credit card, and more importantly, how to get approved.
1. Check on your credit score
The first, and arguably most important, step when applying for a credit card is to check your credit score. This can help you decide whether or not now is the right time to apply for a new credit card or if you should wait a little longer to build your credit score before applying for a new credit card. A good credit score is generally above 650, and a score in the "good" to "excellent" range is likely to help your approval odds.
2. Decide what card is right for you
Deciding on the best credit card for you comes down to thinking about your wants and needs. If this is your very first card, apply for one with low fees and interest rates, with a high approval odds. If this is your second or third card, could look into a more exclusive premium or rewards card to earn extra incentives when making certain purchases.
Below are a few different types of credit cards that you may consider based on your financial needs and wants.
For your first card:
Secured credit cards are good for those who don't want to go overboard on spending, as they require a cash deposit that the lender holds as collateral for making on-time payments.
Student cards are designed for college students or young adults just beginning their financial journey, with low credit limits and limited to no rewards.
For a second or third card:
Premium cards are reserved for high spenders that want exclusive perks for card usage, such as access or first dibs to special events.
Rewards cards are best for those who want to earn incentives every time they use their card for certain purchases, such as travel points, cash back or other cardmember exclusives.
3. Look into pre-approval odds
Because applying for a credit card requires a hard inquiry into your credit history (that reflects on your credit score), you may want to look into credit cards you're pre-approved for before beginning the application process. The pre-approval process performs a soft inquiry into your credit background that does not affect your credit to see if your score and other information are aligned with the credit card's approval criteria.
A pre-approval is not a guarantee that you'll end up getting approved when you actually apply, but it can be a helpful indicator to see if this is the right card for you.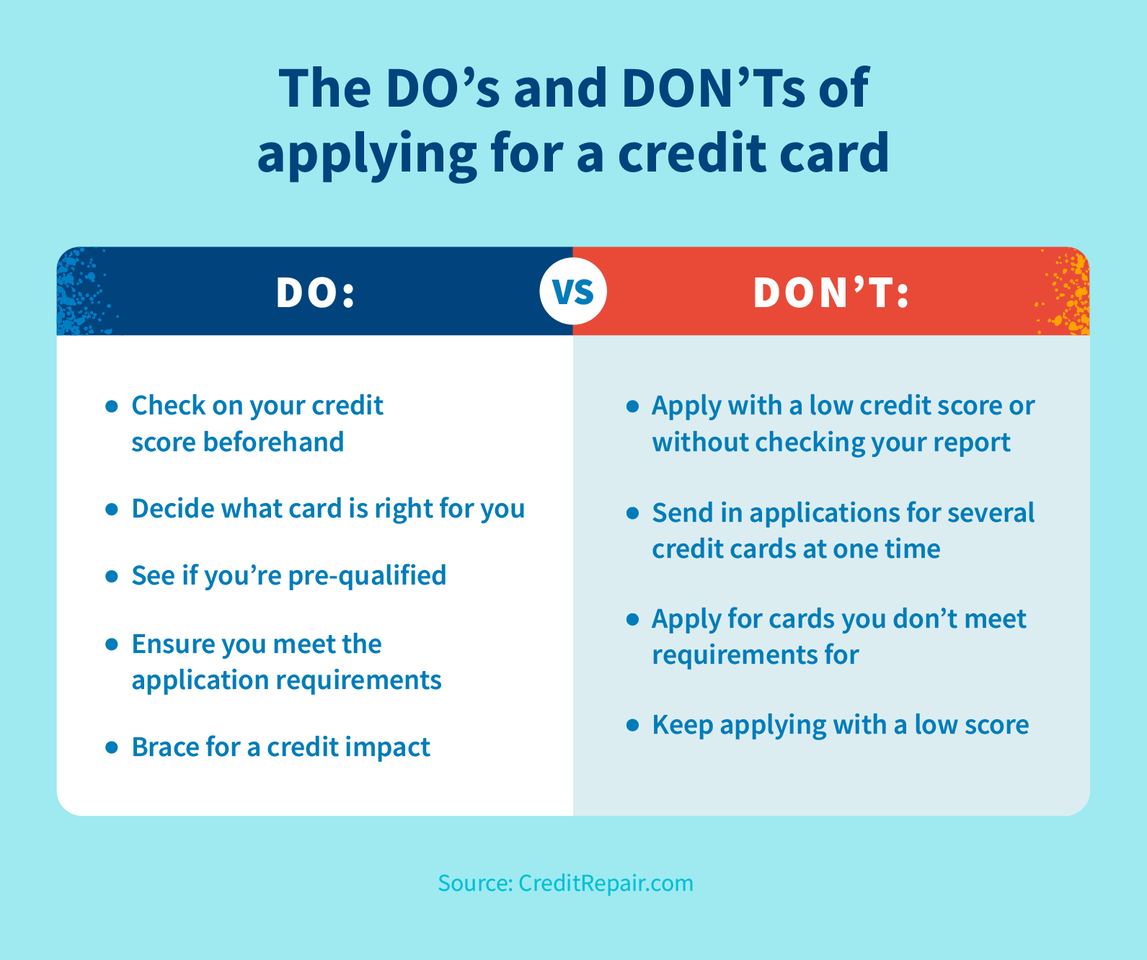 4. Familiarize yourself with the terms of the credit card
There are a number of different terms and conditions that are important to understand when applying for a credit card, as they can determine how much you'll owe.
Below are some commonly used terms used for credit cards that can help you decide whether this is the right card for you, so you aren't surprised when it comes time to pay your credit card bill.
Annual fee: a once-yearly fee charged by the card issuer that allows you to collect any earned rewards from the past year. Many cards waive this fee the first year you're with them, or they don't charge one at all.
Annual percentage rate (APR): the rate of the total annual cost of any interest carried on your card from month to month. This charge occurs when you don't pay your credit card balance in full each month, and can vary depending on the amount you currently owe.
Minimum interest charge: this refers to the least amount of interest you are charged if you carry a monthly balance on your credit card
Late fee: a fee charged by your card issuer when you fail to make a monthly payment by the due date
There are additional credit card fees and charges that vary depending on the card issuer and the exact terms of your card agreement.
5. Meet the card application requirements
Understanding the credit card approval requirements that you'll need for your application can help make the process easier.
Generally, you'll need the following to apply:
Date of birth
Full name
Current citizenship
Contact information such as a mailing address, phone number and email address
Social Security number or Tax Identification Number
Checking account information
Employment status and annual income
Monthly mortgage or rent payment costs
6. Apply online, in person, over the phone or via mail
Upon applying for a credit card, you have a few application options available depending on your situation and needs.
Applying online through the card issuer's website is typically the easiest and most convenient way to apply and generally gives the quickest response or even an immediate approval.
Applying in person allows you to ask questions to a representative during the application process and may ensure a quicker application processing time. However, this also means finding a physical location of your lender and applying during regular business hours.
Applying over the phone means you get to apply from the comfort of your home and ask questions to a representative, but that also means the inconvenience of hold times and applying during regular business hours.
Applying via mail is the least efficient method of applying for a credit card, as you'll need to add on the time it takes to reach your lender, their application processing time and the time it takes for their decision to be mailed back to you.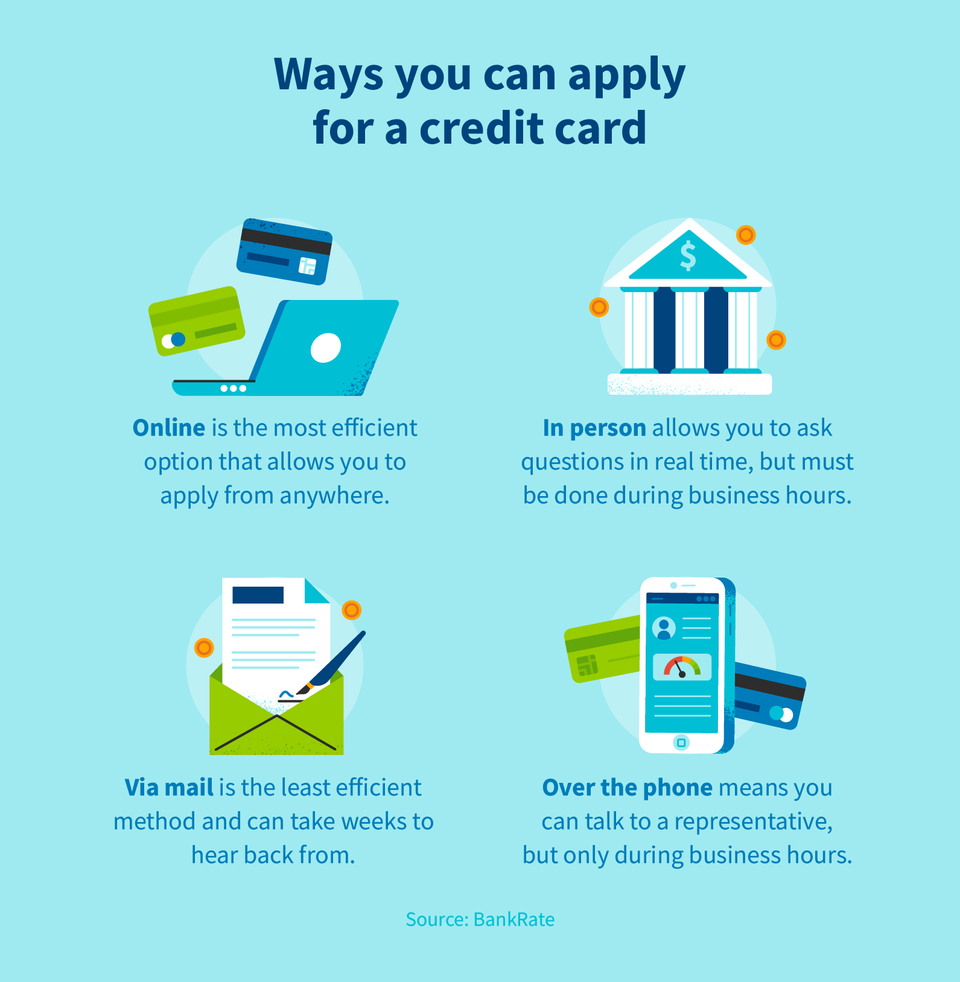 7. Brace for an impact to your credit score
A credit card application requires a hard inquiry into your credit history, which does cause your score to take a slight dip—but the impact should be minimal as long as you're just applying for one card. You can feel confident that your slight score decrease will rebound quickly once you're approved and start using your new credit card.
A new credit card also lowers the overall age of your credit and impacts your credit utilization ratio (the amount of credit you owe compared to the total credit limit you currently have). As both of these factors are used to calculate your credit score, your credit score may decrease if you rack up a large amount of debt at one time on your new card.
8. Prepare a repayment strategy
But the work doesn't stop after you've sent in your credit card application. It's important to have a debt repayment strategy.
Here are some tips to get you started on a positive note with your new credit card:
Aim to keep your credit utilization ratio under 30 percent (meaning you owe less than 30 percent of your total credit limit)
Try to keep as low of a balance as possible to avoid hefty interest charges
Pay close attention to your credit report to report any fraudulent charges, should they happen
Pay more than the monthly minimum charge each month when possible
Frequently asked questions about credit card applications
How soon do I hear back regarding my application?
Responses for credit card applications vary depending on the issuer and the type of credit card you're applying for. Response times can go from instant approval to a few weeks; the most common wait times are around seven to ten business days.
Your method of applying can also have an effect on how soon you hear back. If you apply online and meet all of the application requirements, you can get approved within minutes, but if you apply via mail, you may be waiting anywhere from a few days to a few weeks to get your decision.
What if my application is denied?
Even if you're pre-qualified and meet the requirements, some credit card applications get rejected for a variety of reasons—a negative credit history, no recent income or a recent hit to your credit score can all impact your application being denied.
Luckily, per the Fair Credit Reporting Act, credit card issuers are required to inform you why they rejected your application (known as an "adverse action notice"). You can expect your notice to arrive seven to ten business days after your application was denied.
It's important to remain positive after your application was denied. Know that you have options. Continue to research which credit card best fits your needs, and study your adverse action notice to see what you can improve on your next application.
How many cards should I apply for at one time?
Technically, you can apply for as many credit cards at one time as you want. However, doing so will generate multiple hard inquiries at one time, which will not only hurt your credit score but can also be a red flag for lenders in the future.
Each application results in a separate hard inquiry into your credit, so multiple hard inquiries at once or over a short period of time can all compound and bring your credit score down by quite a few points.
There's no right answer for how long to wait between credit card applications, but to be cautious you may want to wait three to six months between applications to allow your score time to bounce back from a hard inquiry.
Applying for a credit card is an important piece of your financial journey. Knowing how to apply is just one step in the credit-building process that can lead to more opportunities that allow you to rebuild and work on increasing your credit score. CreditRepair.com is here to help and support you in achieving your personal financial goals.

Reviewed by Upuia Sagapolu, Credit Consultant at CreditRepair.com.
Upuia Sagapolu has worked in credit repair for over 17 years. She has a great wealth of knowledge and wisdom concerning the credit repair process. Upuia champions herself as a strong advocate assisting all hard-working Americans towards increasing their credit scores and achieving their financial goals. She is a firm believer that having great credit is essential to a person's credit journey, which is their financial power that leads to their financial freedom.
Note: The information provided on CreditRepair.com does not, and is not intended to, act as legal, financial or credit advice; instead, it is for general informational purposes only.
The post How to apply for a credit card (and get approved) in 8 steps appeared first on CreditRepair.com.