Disclosure regarding our editorial content standards.
Buying a home is exciting, but it can also be scary or even a little intimidating. Although Experian® reports the average credit score in the United States is 714, the reality is a large percentage of Americans have credit scores that fall below that number, making it difficult for them to qualify for conventional home loans. Luckily, other options are available for individuals with bad credit who want to achieve the American dream of homeownership. 
An FHA loan is a popular financing option for first-time buyers, buyers who may not have a large down payment and buyers with less-than-perfect credit. Getting approved for an FHA loan with bad credit may be more realistic than you might think.
What is an FHA loan?
An FHA loan is a mortgage loan insured by the Federal Housing Administration. They typically have fewer restrictions than conventional loans, making it easier for borrowers with low credit scores to get approved. 
FHA mortgage insurance protects lenders against losses, so they can afford to offer home loans to borrowers with lower credit scores and individuals with small down payments.
Can I get an FHA loan with bad credit?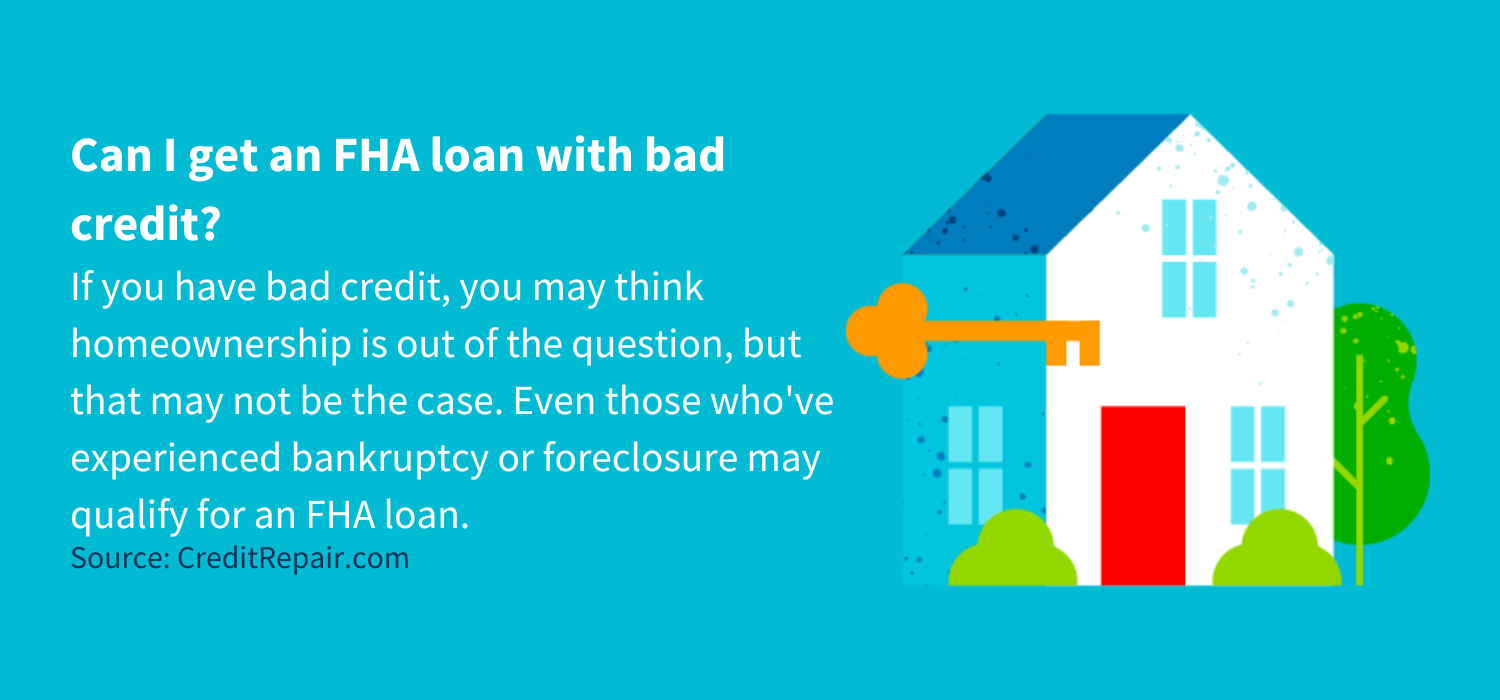 If you have bad credit, you may think homeownership is out of the question, but that may not be the case. Over the years, the Federal Housing Administration has loosened the guidelines of its loan program to allow more borrowers to meet the requirements necessary to qualify for a home loan. Even those who've experienced bankruptcy or foreclosure may qualify for an FHA loan.
A conventional home loan typically requires a credit score of 620 or higher for approval. So many borrowers with bad credit are drawn to FHA loans because the approval rating is higher for those with lower credit scores. There are no guarantees, but FHA loans can make the dream of homeownership a reality for those with bad credit.
What are the benefits of an FHA loan?
FHA loans allow borrowers to pay smaller down payments, allowing them to reserve funds for other expenses related to homeownership. 
Other benefits of FHA loans include:
Flexible co-signer rules
Easier qualification requirements
Option to finance some closing costs
Higher debt-to-income ratio (DTI)
Looser rules on gift funds (i.e., who can give you money for a down payment)
More affordable interest rates
While these loans are very popular, they aren't for everybody, says Justin Pritchard of The Balance. He cites not being ready to take on a mortgage, paying mortgage insurance and higher up-front costs as a few drawbacks of using an FHA loan. 
Requirements for an FHA loan with bad credit
Generally speaking, bad credit is a score of anything less than 500, but that answer varies depending on the lender. Many lenders won't extend loans to borrowers with scores lower than 500. Even with a score of 500, the loan approval may come with additional requirements.
Down payment requirements
How much of a down payment you'll need to purchase a home with an FHA loan depends on your credit score. Borrowers with a FICO® score of at least 580 may qualify for a 3.5 percent down payment. Borrowers with a FICO score between 500 and 579 will be required to provide a down payment of 10 percent.
Additional requirements
Borrowers will also need proof of income and steady employment.
How to apply for an FHA loan with bad credit
If you want to pursue an FHA loan, you should first find an FHA-approved lender. Most banks and mortgage companies offer FHA loans. If you don't already have a lending institution in mind, you can do some online research to find some FHA-approved lenders.
After you select the lender you want to use, you'll submit a loan application. You can apply online, over the phone or in person with a loan officer. Whichever way you choose, there are some things you'll want to have handy to make the process smoother.
Here are just a few important pieces of information you'll need: 
Complete names of borrowers plus any co-borrowers
Current address
Social Security number
Employer information along with salary information (complete with pay stubs)
Credit report with information on all open loans and real estate
Tax returns (for at least two years)
Bank account statements
Other information as requested by your lender
Once you submit your application, the lender will let you know the next steps regarding approval. If you're approved for a loan, the lender will provide you with the loan estimate, which will disclose information about the loan interest rate, loan terms, monthly mortgage payment and closing costs.
Even with bad credit, it's a good idea to shop around to make sure you get the best rate you can get.
Refinancing an FHA loan with bad credit
Over time, you may notice that mortgage rates decrease, and you may want to take advantage of the opportunity to lower your monthly payment, change your loan terms or get some extra cash to pay for some things you need. One option is to refinance your FHA loan.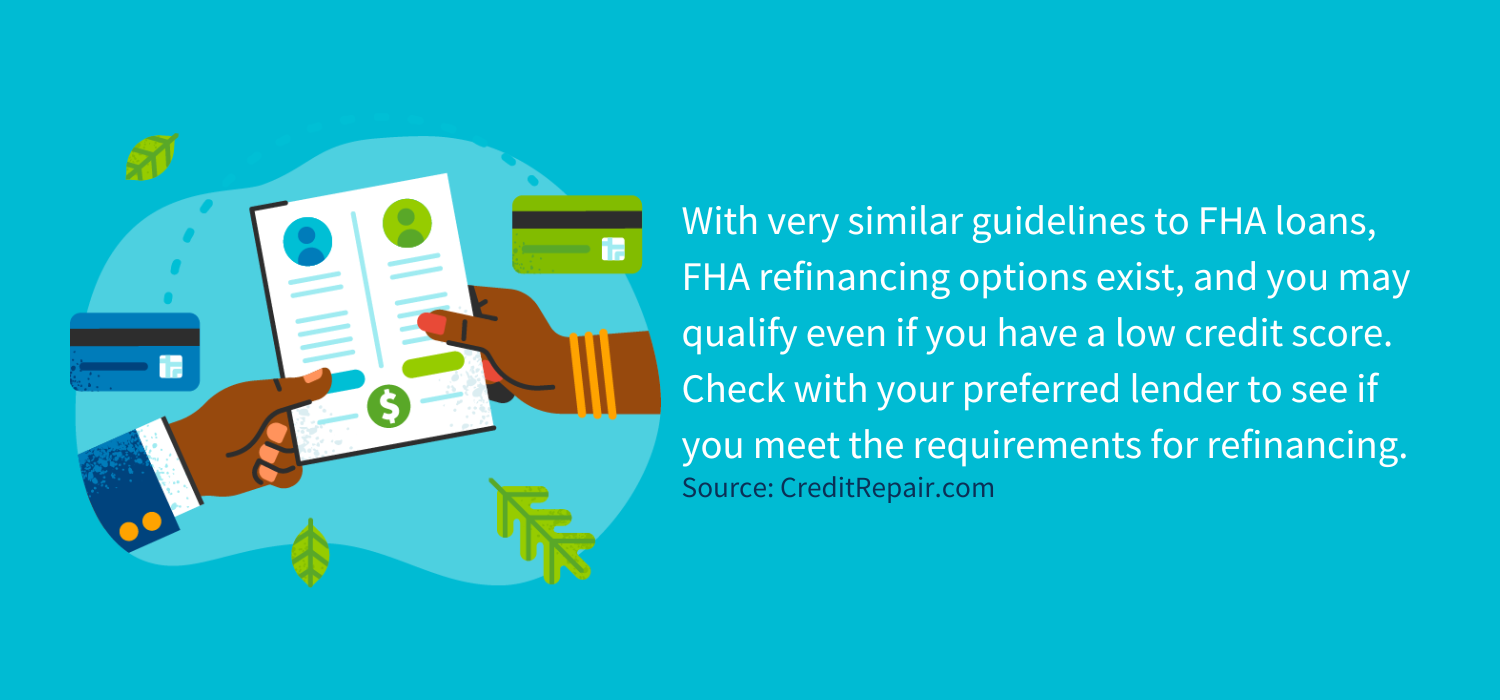 With very similar guidelines to FHA loans, FHA refinancing options exist, and you may qualify even if you have a low credit score. Check with your preferred lender to see if you meet the requirements for refinancing.
First-time homebuyers and FHA loans
If you're a first-time homebuyer, it's not uncommon to be overwhelmed with the process. FHA loans are a great option for first-time buyers, especially those with bad credit. The below-average mortgage rates and flexible lending rules make it easier for first-time buyers to get approved for loans and get into their first home.
What to know about FHA loans and bankruptcy
Borrowers who have a  bankruptcy on their credit report may think homeownership isn't an option, but that may not be true. Though bankruptcy can stay on your credit report for seven to 10 years, you may still qualify for an FHA loan. 
Chapter 7
According to FHA loan guidelines, a borrower may be able to obtain an FHA loan just 12 months after Chapter 7 bankruptcy has been discharged. The borrower must prove that the bankruptcy was caused by circumstances beyond their control. Otherwise, borrowers must wait two years after discharge to qualify for an FHA loan.
Chapter 13
Qualifying for an FHA loan after Chapter 13 bankruptcy might be easier than after Chapter 7 bankruptcy. The borrower will need to be at least one year into the repayment plan to apply for an FHA loan and be current. Additionally, your bankruptcy attorney must give written permission for you to take out a new loan.
Repairing your credit
If you have bad credit, you may think you're stuck with it—at least for now. But you have options. You can work to improve your credit yourself or you could reach out to a credit repair company like CreditRepair.com. The credit advisors at CreditRepair.com can work with you to remove inaccurate items from your credit report, potentially improving your credit score.
---
Note: The information provided on CreditRepair.com does not, and is not intended to, act as legal, financial or credit advice; instead, it is for general informational purposes only.
The post Getting approved for an FHA loan with bad credit appeared first on CreditRepair.com.