Disclosure regarding our editorial content standards.
A recent study found 34 percent of people who checked their credit reports found at least one error. That's why there's a disputing process in place with the credit bureaus—so consumers can fix any mistakes they see on their reports that are unfairly impacting their credit scores.
Unfortunately for most consumers, the disputing process can be long and complicated. Luckily, many companies offer to help with this process, and the Credit Repair Organizations Act (CROA) works to make sure these companies don't take advantage of people desperate to fix their credit. Here's a full breakdown of what the CROA is and how it protects consumers.
What is CROA?
The Credit Repair Organizations Act (CROA) is a piece of legislation under the Consumer Credit Protection Act. The statute was signed into law in 1996. This legislation is meant to regulate the actions of credit repair organizations to protect consumers. It was created as a direct response to multiple predatory actions within the credit repair organization industry.
How credit repair companies work under CROA
Most credit repair organizations do not charge a fee to help individuals review their reports. If any false negative information is found, and the consumer enrolls in their program, the credit repair agency can file a dispute on behalf of the consumer. The pricing of services offered may vary. The purpose of these organizations is to help individuals work with the credit bureaus to improve fairness, accuracy and privacy of all consumer's credit profiles.
Consumers seeking this type of service can often be in a vulnerable position. They want to improve their credit and are looking for assistance and guidance on how to go about the process. As a result of this dynamic, there's significant potential for credit repair organizations to scam and take advantage of their customers.
To regulate the industry, the CROA was created to reduce the number of scams, protect consumers and prevent credit repair organizations from making misleading promises about their services. All credit repair organizations are legally obligated to follow this federal legislation.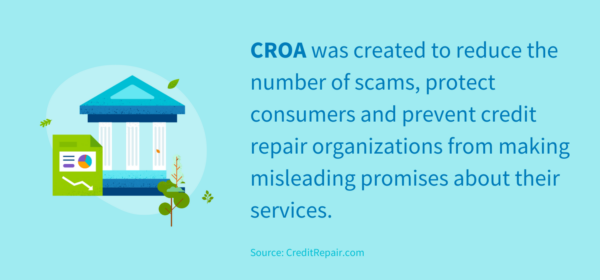 Five common illegal practices in the credit repair industry
The CROA prohibits these behaviors from credit repair companies:
1. Giving you a new credit identity
entity or conceal negative information
Some credit repair organizations suggest to their customers that by acquiring a new identity, such as getting a new Social Security number (SSN), they can start with a clean slate for their credit profile. However, this is an illegal suggestion that can have legal ramifications for both the credit repair organization and the customer.
2. Asking you to waive any of your rights
Under the CROA, consumers have specific rights when dealing with a credit repair organization. Under these rights, you should be given a contract with a clear outline of the services to be provided. Additionally, you have the right to cancel your contract within three in some cases five days of signing up for any reason with no obligations to the organization.
3. Lying about their services to you
One of the biggest purposes of the CROA is to prevent credit repair organizations from lying or misrepresenting their services. Most notably, these agencies can't "guarantee" results. The credit repair organizations can't control how credit bureaus will respond to disputes—even legitimate disputes. As a result, they can't promise results because they can't predict what will happen.
4. Misrepresenting your information to the credit bureaus or other data furnishers
A credit repair organization will work with the consumer to find inaccurate information on a consumer's report and if found-file a dispute for this item. But when doing so, some organizations try to lie about the consumer's information either to the credit bureaus or to other data furnishers. This is an illegal practice under the CROA.
5. Charging for work they haven't done yet
The CROA prohibits credit repair organizations from charging for their services before any work has been completed. Companies that ask for payment before you have signed anything or refuse to provide evidence of work being done could be scammers. This is an illegal practice.
What credit repair organizations are obligated to provide under CROA
In addition to all the things credit repair organizations can't do, there are a few things they must do as well:
1. Contract Cancellation
All consumers have the ability to cancel the contract within three days of signing it without any penalty or obligation. This right should be outlined in the contract so the consumer is fully aware of this option.
2. A disclosure statement
Under the CROA, credit repair organizations must provide consumers with a written statement before any contract or agreement is signed. This written statement is known as the Consumer Credit File Rights Under State and Federal Law.
3. A credit repair contract with the following information:
All credit repair organizations must provide a contract of the services about to be provided. The agreement must detail:
The terms of payment
All services that will be provided
The length of time in which the service will be completed
The physical address for the credit repair organization
Information on how to cancel the services being provided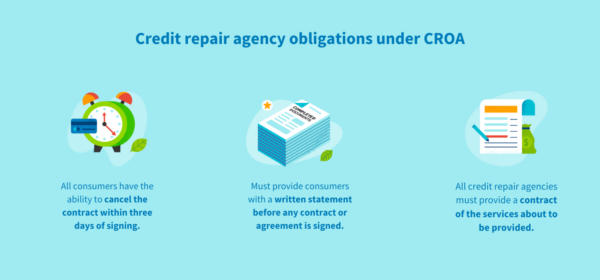 Resources to help you fix your credit
In addition to working with a credit repair organization, you may want to consider a credit counselor. A credit counselor can provide more general credit advice to help consumers learn how to navigate their finances better and avoid credit mistakes in the future.
If you work with a credit repair organization, you want to make sure you only work with a reputable company like CreditRepair.com. The specialists at CreditRepair.com have years of experience and have helped many consumers fix their credit.
You don't have to tackle your credit disputes by yourself. Working with a professional organization can take the burden of work off of you. Additionally, these organizations have lots of experience filing disputes and know exactly what to include to increase the chances of the credit bureaus reviewing the information.
---

Reviewed by Makeda Jackson, Credit Professional for CreditRepair.com.
Makeda Jackson has worked as a credit professional with the CreditRepair.com team for the last few years. Her goal is to continue the fight for everyone to have a fair, and accurate credit profile and for a chance at a better quality life. Her biggest achievement comes with the success of the hundreds of credit advisors that she has had the pleasure of educating. Her commitment to integrity and valuable service is extended out to both CreditRepair.com customers and to the people in her own team. Outside of work, Makeda loves to do outdoor activities, spend time with her family, and volunteer with her team for charity events.
Note: The information provided on CreditRepair.com does not, and is not intended to, act as legal, financial or credit advice; instead, it is for general informational purposes only.
The post CROA at a glance appeared first on CreditRepair.com.