Disclosure regarding our editorial content standards.
Only 2.3 percent of folks 35 years and older are enrolled in a college program, with 0.2 percent of college students being 55 years or older. We are seeing fewer and fewer adults attending and graduating from higher education institutions.
Starting or going back to college as an adult is expensive, but the payoff can be greater. Folks with a bachelor's degree earn a median salary of $36,000 or 84 percent higher than people who have a high school diploma as their highest degree. 
But with inflation on the rise and a pandemic that might've affected your debt, you might be wondering how to pay for college as an adult.
Thankfully, there are different ways to pay for college and even certain jobs that offer loan forgiveness. Here are a few ways older students can receive the funds they need to enhance their knowledge.
1. FAFSA
One of the first steps to going into a higher education program is to fill out a Free Application for Federal Student Aid, better known as FAFSA. Folks fill out this government form to find out if they qualify for federal or state financial aid in the form of grants, loans and work-study programs.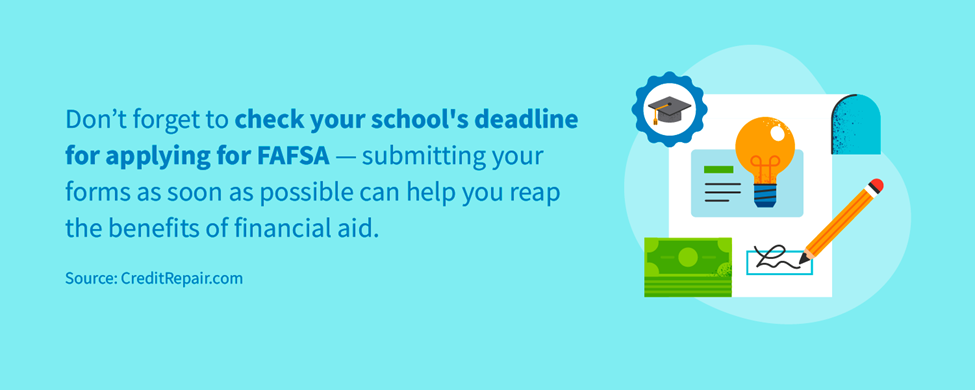 2. Grants
After filling out your FAFSA, you will have a better sense of what assistance is available to you via grants. Grants are forms of funds given based on either financial need or merit and do not have to be paid back. These funds are granted to those in certain fields or who have accomplished certain academic achievements.
Types of grants
There are many grants awarded by the state or federal government. Here are a few types of grants that can help adults pay for college.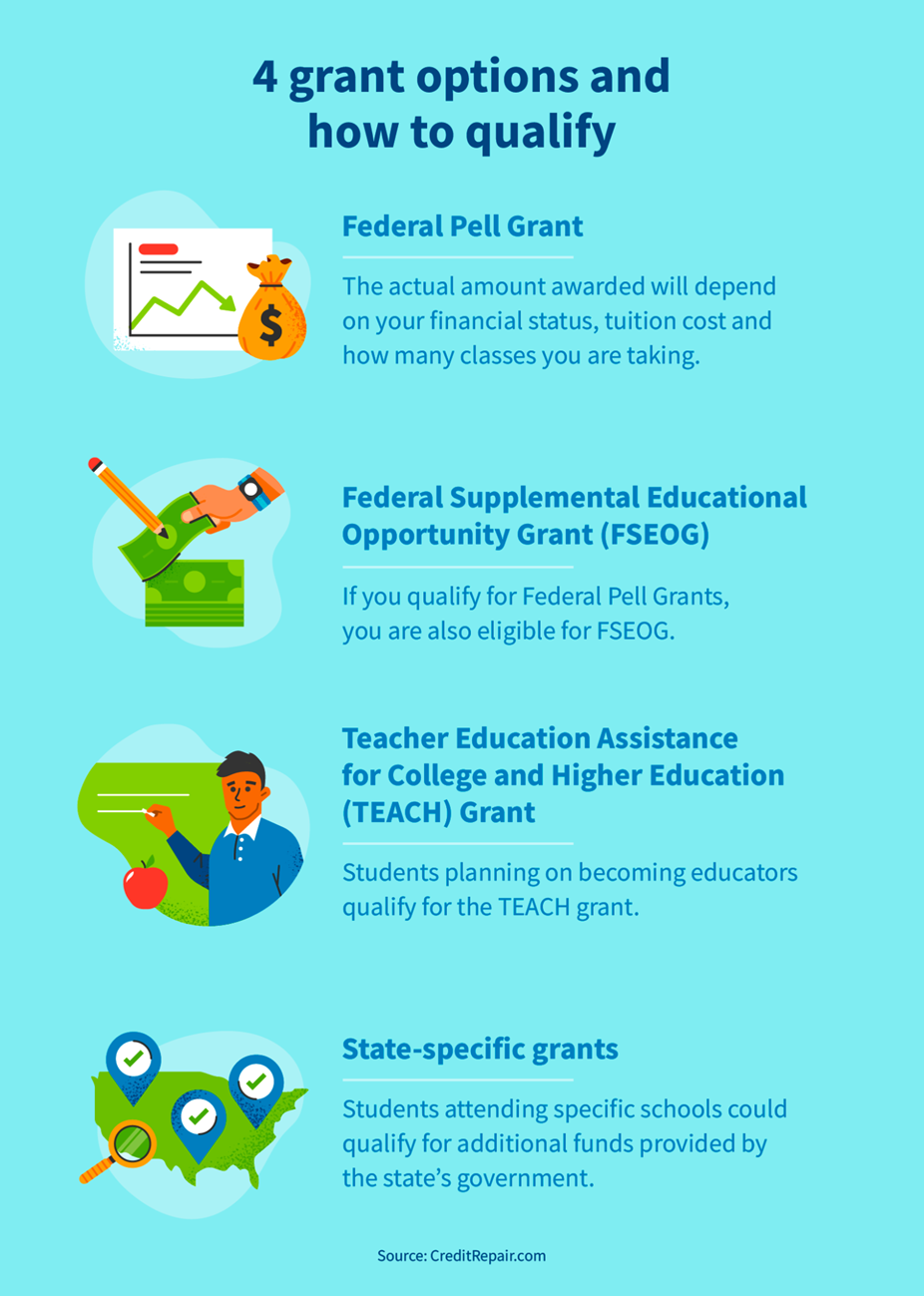 3. Scholarships
Scholarships are another form of financial aid that can help you pay for college as an adult. Check out a few different scholarships for adults below.
Scholarships for adults
The list of scholarships is extensive, which is great for folks looking to further their education. There are plenty of scholarship resources available to find what you're eligible for.
4. Work-study program
The federal government created the Federal Work-Study Program where students can work part-time jobs to earn money for education fees. Undergraduate and graduate students who demonstrate financial need are eligible for this program.
Good news—full-time and part-time students can participate. This federal program is administered by colleges and universities. Check with your school's financial aid office to see if your school participates in this program and if you qualify.
The jobs in the work-study program are typically tailored to your specific educational track. Undergraduates can expect to be paid hourly, whereas graduate or professional students might receive a salary or stipend. The amount of hours you can work can't exceed your specific program.
Here are a few common work-study jobs to check out:
Teacher's aid
Research assistant
Data clerk
Tutor
5. Employer programs
If you are unsure how to pay for college as an adult, some companies offer tuition assistance programs. Your current employer could help you cover the cost of classes and supplies. Unfortunately, not every business participates in this program—but a quick chat with your human resources office can provide insight for your continuing education plans.
If your employer offers tuition reimbursement plans, here are a few questions to ask: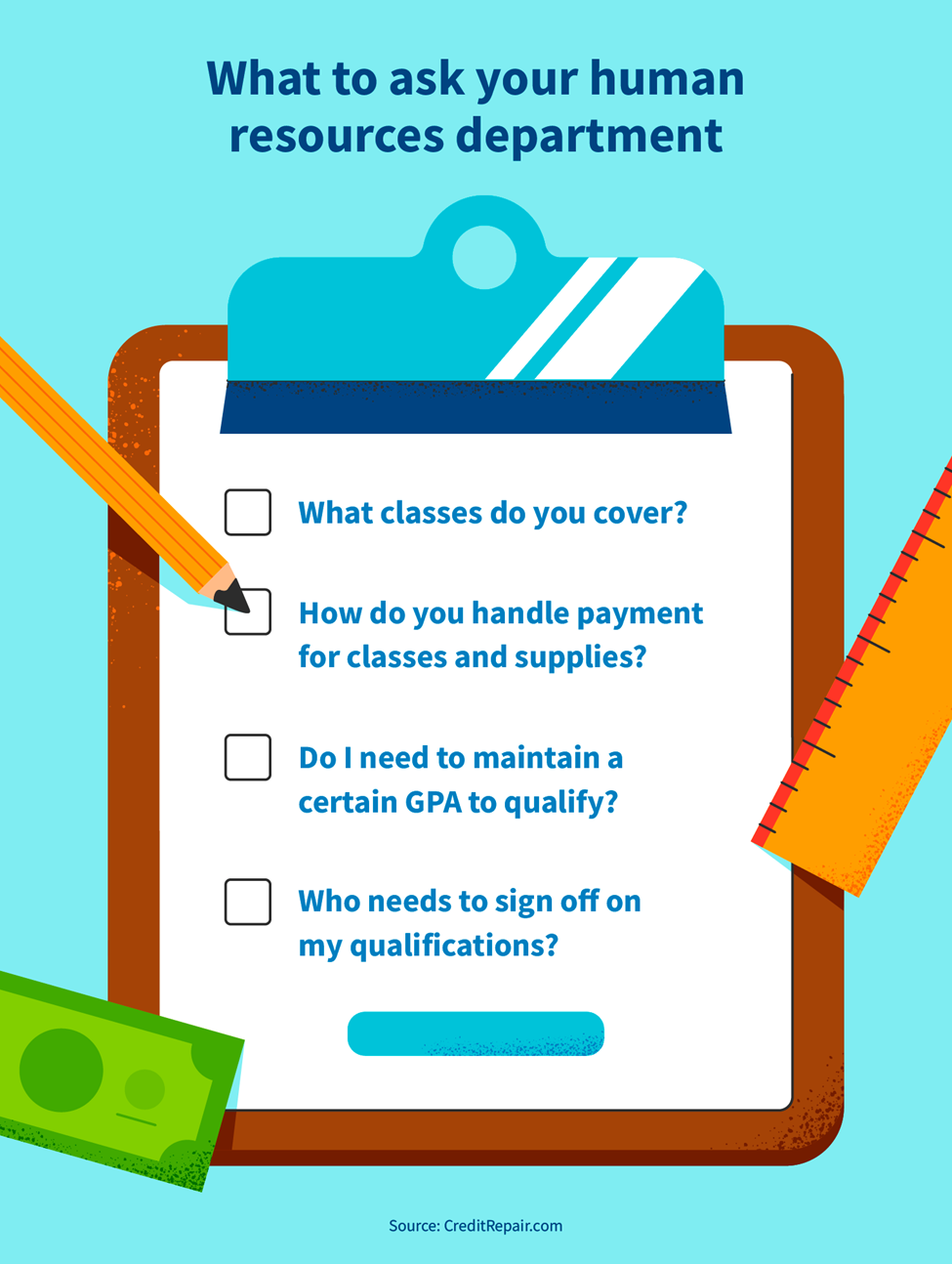 6. Tax breaks
Some employer programs come with a tax benefit. The IRS created tax breaks or educational assistance programs to help reduce the weight of tuition, school supplies and required textbooks. You could receive thousands of dollars in financial relief that you do not have to pay taxes on—your employer will not count these funds as part of your wages.
There are other tax break programs that help you pay for college as an adult. The American Opportunity Tax Credit (AOTC) gives students a $2,500 credit annually. The Lifetime Learning Credit (LLC) might be able to provide you with a $2,000 credit annually. There are also programs for student loan interest deductions to lower your financial responsibilities.
Another tax break includes the 529 plan, which is created by either the state or school you are attending. Students can prepay or create a savings account to pay educational expenses. Once you are enrolled in higher education, you will not be taxed on the money you withdraw.
7. Military benefits
The Post-9/11 GI Bill will pay all tuition and fees for in-state public school for veterans who have served after September 10, 2001, with at least 90 days of service. Veterans can also receive a living stipend to cover any housing fees, and up to $1,000 for books and school supplies.
Keep in mind the actual amount awarded to you will vary based on your total length of service. Students can receive the maximum amount of reimbursement if they have served at least 36 months (or 30 days prior to discharge for a service-related disability). You can receive half of the maximum benefits if you served less than six months but a minimum of 90 days.
Other veteran education benefits include:
Yellow Ribbon Program: This helps students pay for out-of-state, private or graduate school tuition that isn't covered by the Post-9/11 GI Bill.
Edith Nourse Rogers STEM Scholarship: Some eligible veterans can receive funds if they are seeking additional training in the STEM field.
The Montgomery GI Bill Active Duty (MGIB-AD): If you served a minimum of two years on active duty, you could be eligible for funds to help pay for educational expenses.
8. Prior learning assessments
Adults furthering their education may participate in the Prior Learning Assessment (PLA) program. Since you are older and wiser, you can use your real-life experiences to your benefit. There are certain programs that give folks like you the opportunity to cut down on credits or classes for past experiences under the PLA to save you money overall.
Keep in mind that each school has different rules about what PLA is accepted and how much credit you can receive.
Here are some prior learning assessments that you may qualify for:
Challenge exams
These exams are similar to Advanced Placement (AP) tests, which award students college credit for learning college-level material in high school. Challenge exams are multiple-choice tests for certain subjects and awards college credit. The College-Level Exam Program (CLEP) grants credit for nearly 3,000 colleges and universities.
Academic portfolio
Folks who are well-versed in a subject not covered on challenge exams can create an academic portfolio showcasing their skillset. This body of work can include written reports, articles, certifications, artwork, videos and even business plans.
Not every college will accept an academic portfolio. However, those that do will provide guidelines to help you build yours and receive college credit. Most of these schools charge a review fee, but it will be significantly less than the cost of an academic course.
Workforce training
The skills you learn in the workforce can be applied to higher education programs. You can even receive college credit through the Learning Evaluations program created by the American Council on Education (ACE). This program will test your skills to see if you are versed enough to receive the credit.
Keep in mind that colleges and universities are not required to accept these credits and results will vary.
Military training
There are certain learning evaluations for military courses offered by the American Council on Education. Faculty members will evaluate military training to determine if you have the knowledge and proper teachings for college credit. You can find your course information on your Joint Services Transcript (JST).
Competency-based education (CBE)
Competency-based education (CBE) is another life experience option to prove proficiency. This form of testing is also known as personalized learning. Students can test out of partial aspects of a course that may cover material they already know. This method helps folks make faster progress toward their degree. There are only a handful of schools that participate in this program, so make sure you check if yours applies.
9. Loans
One of the most common ways adults pay for college is by taking out loans—which are forms of borrowed money that must be repaid with interest. The good news is that there is no age restriction on taking out student loans to cover your higher education fees.
Taking out loans isn't a bad thing, although when students take out too many loans to pay for a degree that doesn't have a good return on their investment, they can find it difficult to pay them back. It can be helpful to exhaust all other financial resources to cover as much of your college expenses as possible before resorting to student loans.
Types of student loans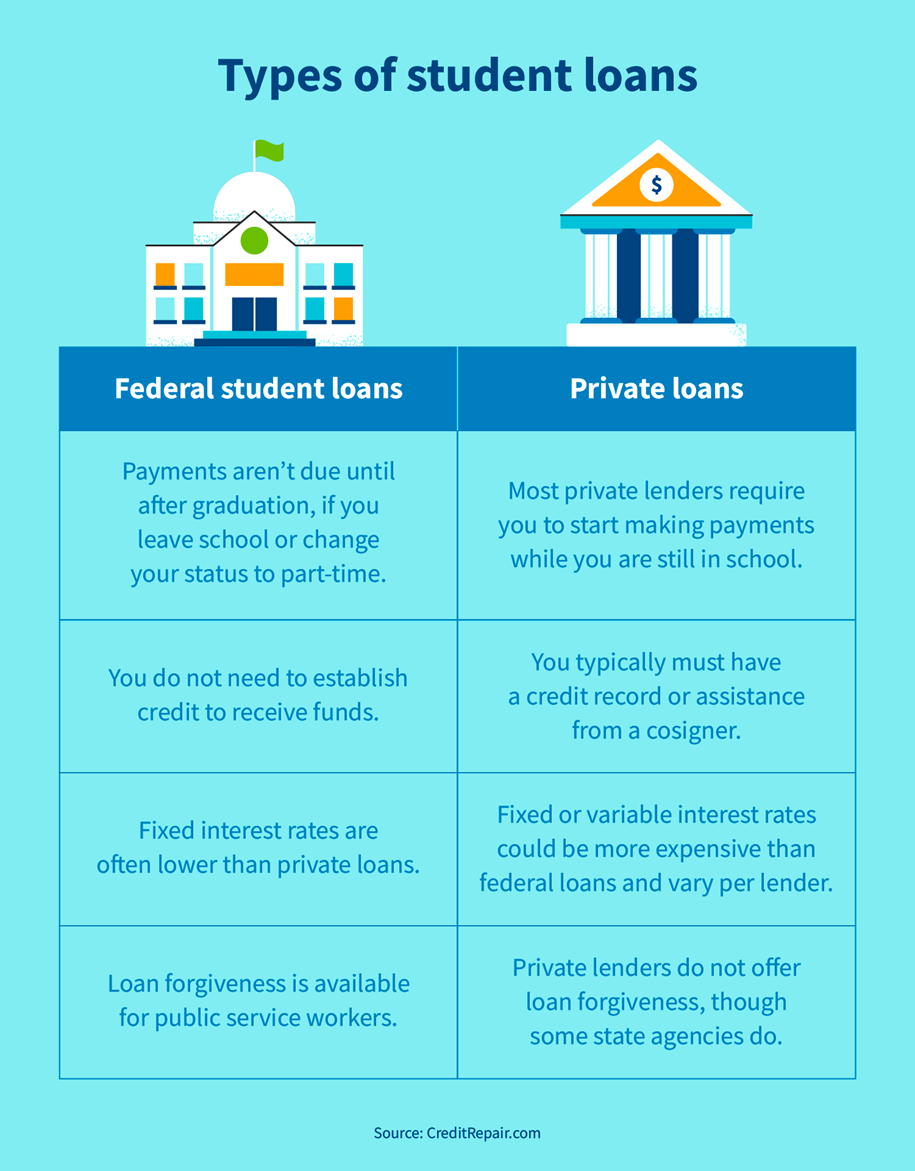 Federal and private loans are the two common types of student loans. Learn more about these financial options below.
Federal student loans are provided by the government and offer low interest rates with flexible repayment plans. Repayment on federal student loans doesn't begin until you stop attending school. 
Private loans are issued by banks, unions and other organizations. The terms and conditions will vary depending on the lender, and these loans are commonly more expensive than federal student loans.
10. Classes for older adults
Are you between the ages of 50 and 65? Good news—you can attend college courses at a reduced rate! Almost every state in the U.S. offers cheaper or even free classes for older adults.
A majority of colleges and universities allow older students to sit in and attend lectures, though they can't submit any coursework or work toward a degree.
However, there are certain colleges, like the University of Delaware, that allow state residents to be fully fledged students and take free classes as long as they aren't taking up space from paying scholars.
How to fix your credit score for college
If you are looking for advice around how to pay for college as an adult and fix your credit, look no further!
It's important to review your payment history, length of credit history and your total debt balance to begin repairing your credit and credit score. Some private loan companies will require a certain credit score to take out a loan, and if you have a lower credit score it might result in receiving higher interest rates.
Thankfully, resources like CreditRepair.com are here to help you rebuild your credit to grow your skill set at college. Contact our credit repair advisors today to learn more about our programs.
---
Note: The information provided on CreditRepair.com does not, and is not intended to, act as legal, financial or credit advice; instead, it is for general informational purposes only.
The post How to pay for college as an adult: older student survival guide appeared first on CreditRepair.com.