Every week, 3,800 more people move into homes in Texas than move out. In 2021, the state saw 416,853 home sales, which was a 5.9 percent increase from the previous year, and the median home price in Texas as of January 2022 was $376,363, having risen 16 percent from the previous January. If you're looking to buy a house in Texas, expect a healthy market with lots of demand and competitive pricing.
Generally speaking, you need a FICO® credit score of at least 620 to be approved for a conventional loan in the United States. However, having a score above 700 significantly increases your chances of getting approved and securing a lower interest rate.
Keep reading to find out more about the Texas market so you can prepare yourself for purchasing a home in the Lone Star state.
What is a credit score?
A credit score is measurement used by lenders to determine your creditworthiness (or the likelihood of you paying off your debts). The most commonly used score is the FICO credit score, which generally ranges between 300 and 850; the higher your credit score, the less risky you're deemed as a borrower.
Credit scores are based on the information from your credit report, including data about your current loans and balances, your payment history, your outstanding debts, and incidents of bankruptcies. More specifically, your credit score is made up of five factors, each of which is weighted differently:
Payment history: 35 percent
Amounts owed: 30 percent
Credit history length: 15 percent
Credit mix: 10 percent
New credit: 10 percent
Credit scores are commonly broken down as follows:
800-850: Exceptional
740-799: Very Good
670-739: Good
580-669: Fair
300-579: Poor
How does my credit score affect my mortgage interest rates?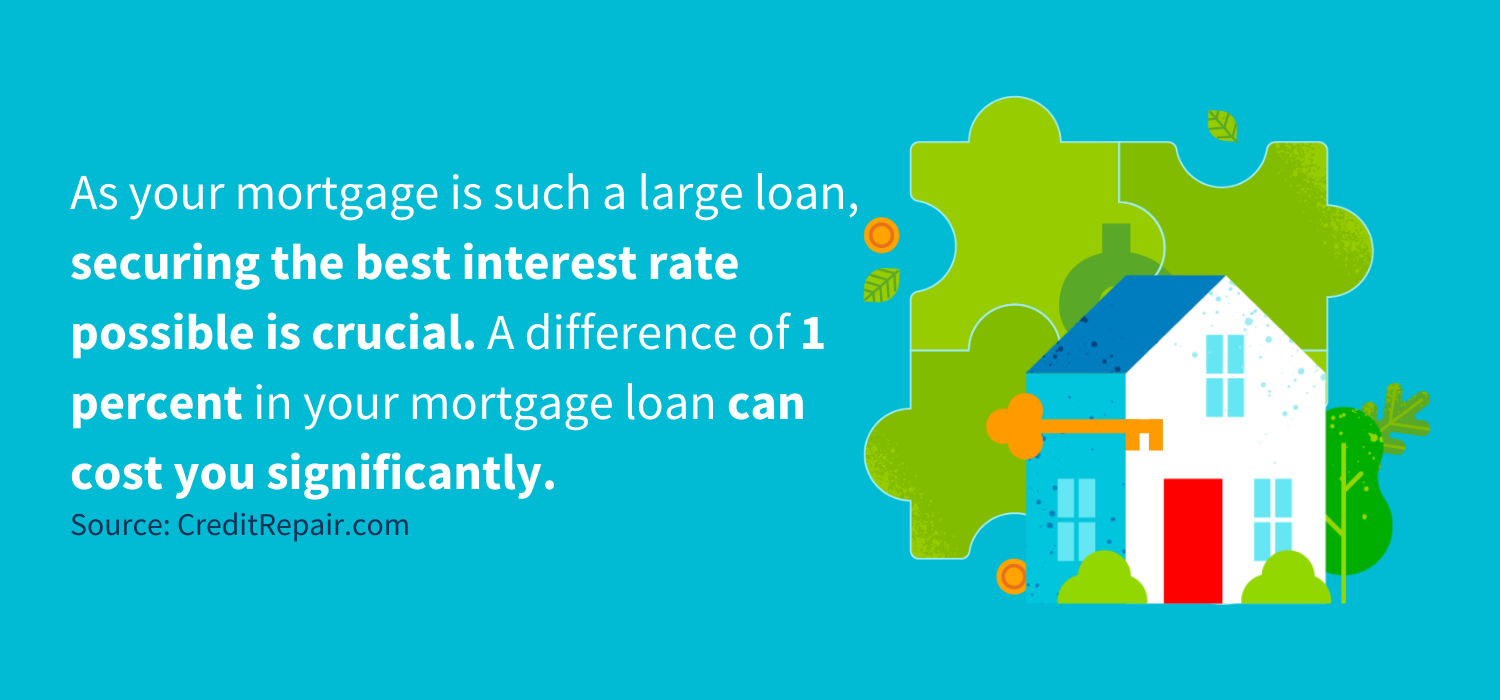 For a conventional mortgage, your credit score is one of the main factors considered when reviewing your mortgage application. For this reason, many people try to improve their credit score when they know they'll be purchasing property in the next few years. Your credit score can also impact how large a mortgage you qualify for, your interest rate, and the loan terms
As your mortgage is such a large loan, securing the best interest rate possible is crucial. A difference of 1 percent in your mortgage loan can cost you significantly. For example, let's look at a person purchasing a $300,000 home with a 30-year loan term. The difference between securing an interest rate of 5.50 percent and 5.25 percent means paying nearly $17,000 more in interest over the life of the loan.
What credit score do I need to buy a house in Texas?
You'll need a score of at least 620 to be approved for a conventional loan in Texas, but there are many options for you if your score sits below 620 (see below). Remember, mortgage lenders look at your credit score in conjunction with other financial factors when determining if you qualify for a loan.
Unfortunately, even a score of 620 doesn't guarantee loan approval. Ideally, prospective buyers in Texas should aim to have a credit score of 760 or greater to increase the chances of approval and securing the best interest rate possible.
What is the average credit score needed to buy a house?
Generally, the higher the credit score, the better your chances of getting accepted for loan approval. The good news is that if you don't qualify for a conventional loan (minimum credit score of 620 required) there are many other options for home loans for your to look into.
The different types of mortgage loans and their minimum credit score requirements are:
Conventional loan: Credit score of 620 or higher and a 3 percent to 5 percent minimum down payment.
USDA loan: If you're looking to purchase rural property in Texas, you could potentially qualify for a loan from the USDA's Single-Family Housing Direct Home Loan Program. USDA loans don't technically have minimum requirements, but typically borrowers need a credit score of at least 640 to qualify.
VA loan: The Veteran Benefits Administration offers qualifying veterans, service members, and spouses VA loans, a type of government-backed mortgage. Similar to the USDA loan, the VA loan doesn't have a minimum requirement, but people typically need a score of at least 640 to be approved.
TDHCA loans: Texas has two state-specific programs to help individuals purchase a property: My First Texas Home and My Choice Texas Home. My First Texas Home is available to all first-time homebuyers, veterans, and homebuyers who haven't purchased a property in the last 3 years that meet certain income guidelines. My Choice Texas Home is a program for those who don't qualify for the My First Texas Home program. Both of these programs have a minimum credit score requirement of 620.
Federal Housing Administration (FHA) loan: FHA loans require a credit score of at least 580, with a down payment between 3.5 percent and 10 percent. However, lenders with a score between 500 and 579 may still qualify if they have a down payment of at least 10 percent.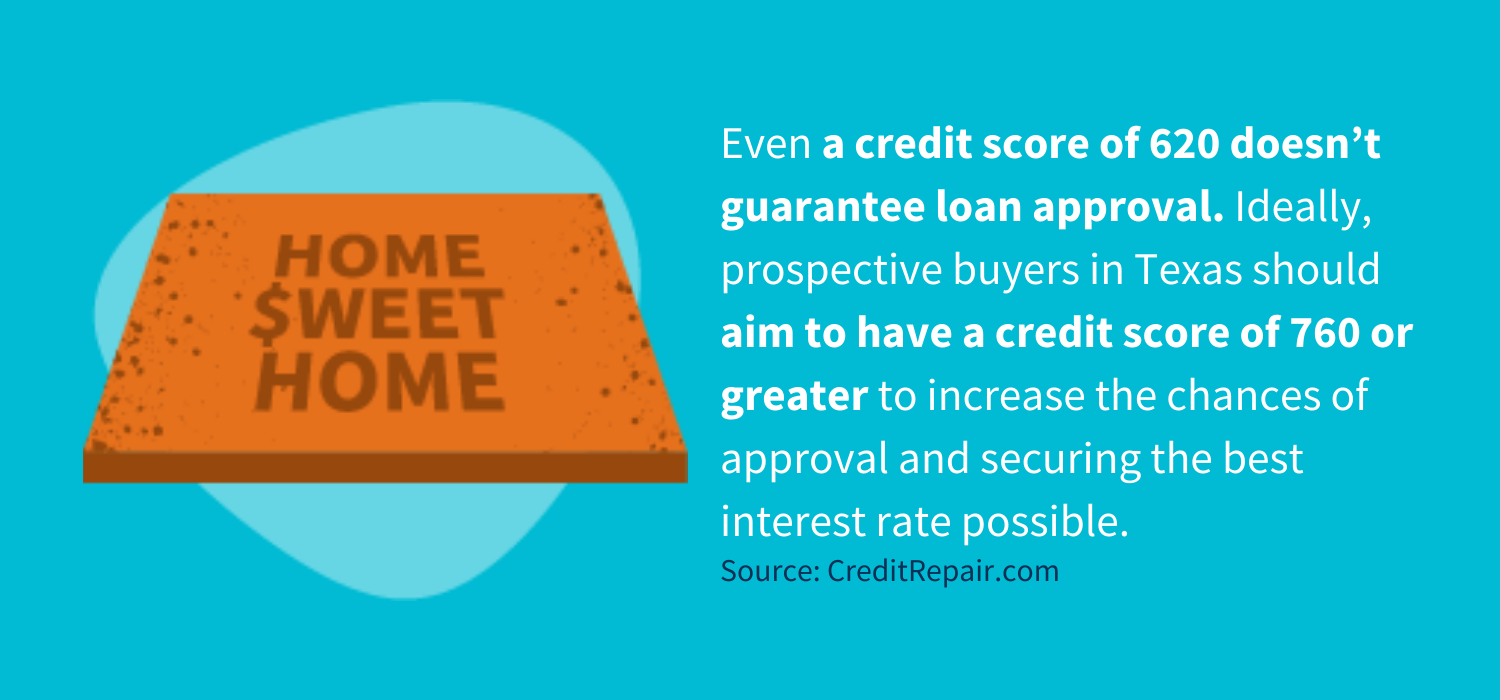 Can I get a mortgage with bad credit?
Yes, it's possible to get a mortgage with bad credit. As listed above, many programs work with people with lower credit scores. Often, being strong in other areas—such as having a sizable down payment—can make up for a low credit score.
Remember that getting a mortgage with poor credit likely means you'll get a high interest rate and less favorable lending terms. This means your mortgage will likely cost you more, so it can be very beneficial to focus on improving your score before you apply.
What other factors do mortgage lenders look at?
Your credit score is an integral part of your mortgage application, but it's not the only thing mortgage lenders look at. They may also consider:
The size of your down payment
Income and savings
Employment history
Debt-to-income (DTI) ratio
Bank statements
1-2 years of tax returns
The assessed value of your home
How can I raise my credit score?
If you're not already in the home buying process, you likely have the time to work on improving your credit score. Some actions you can take to improve your credit score are:
Paying down existing debts
Making sure you pay all your bills on time and in full, if possible
Keeping your credit utilization under 30 percent
Keeping your oldest accounts open (even if you don't use them)
Avoiding applying for new credit, so you don't have hard inquiries into your account
Also, you'll want to review your credit report and ensure you don't have any inaccurate or false information on your file. Errors on credit reports are common and can drag your score down unnecessarily by several points. When you find a mistake, you have the legal right to file a dispute to have it removed from your credit report.
If you need help with the credit repair process, consider hiring the advocates at CreditRepair.com. We can review your credit report with you, help you find errors and file disputes, and give you credit education. Online consultations are free. Start now!
---
Note: The information provided on CreditRepair.com does not, and is not intended to, act as legal, financial or credit advice; instead, it is for general informational purposes only.
The post What is the credit score needed to buy a home in Texas? appeared first on CreditRepair.com.