Disclosure regarding our editorial content standards.
When applying for a personal loan, there are a few things to take into consideration before submitting your application, such as your approval odds. If the odds aren't looking like they'll work out in your favor, you may want to consider asking a cosigner to apply alongside you.
A cosigner could help increase your chances of approval, especially if your credit score isn't looking too hot. Learn more about how to get a personal loan with a cosigner and what it may mean for your approval odds.
What is a cosigned personal loan?
A cosigned personal loan is a loan you apply for alongside someone else (a relative, trusted friend or mentor) who consents to paying the loan back with the primary borrower (you). A cosigner who has good credit, financials and a positive lending history may be able to help increase your chances of loan approval.
Often, this means they take responsibility for paying partially or in full any payments you can't make on your own.
Joint personal loans and co-borrowers
A joint personal loan (loans awarded to two or more people) requires a co-borrower to apply alongside you who will also have responsibility for the loan.
The major difference between a co-borrower and a cosigner is that a cosigner applies with you to certify that they will take on payments only if you're unable to. A co-borrower, in contrast, must apply for the loan alongside you and has equal responsibility to pay back the joint personal loan. They can make payments just like you do.
Should you get a personal loan with a cosigner?
You could consider getting a personal loan with a cosigner if you want to benefit from a trusted associate's good credit score and if you trust them to help you if you can't make the loan payments. Having a cosigner is not required to apply for a personal loan. If your credit score and history is in good shape and there's nothing in your financial background that may signify you wouldn't be a responsible borrower, you should be able to apply alone.
The only time you'll be required to have someone apply for a loan with you is if you're applying for a joint personal loan, where you'll need a co-borrower to complete the application.
When you should consider a cosigner
Though having a cosigner isn't required to apply for a loan, it may be worthwhile to consider one if you have had a troubled credit or financial history. The following are situations where a cosigner can increase your loan approval odds.
Bad credit or lending history
Lenders look at your credit history as an indicator of whether or not you're a responsible borrower and if you're able to make payments on time. If you have a low credit score (typically anything under 670) or have something on your credit report that would indicate you've had trouble making past payments, you may want to consider a cosigner.
Having a cosigner with a high credit score can help your approval odds by signaling to lenders that, together with your cosigner, you have a positive borrowing history. Be sure to let your cosigner know that a loan application often requires a credit inquiry that may temporarily drop their credit score.
Low monthly income
A low income may signal to lenders that you don't have the means to make your required payments each month, which could hurt your approval chances.
Collateral assistance
Collateral is something that a lender holds for you to secure your payment and make sure you will make payments in full. This can include things like the deed to your home or car, fine art or jewelry you own, or even your paycheck.
Collateral has become less common for lenders, but if the loan you're applying for does need collateral that you don't have, a cosigner could be able to help. Be sure your cosigner understands that the collateral they put up on your behalf could end up being seized by the lender in case you're unable to make payments.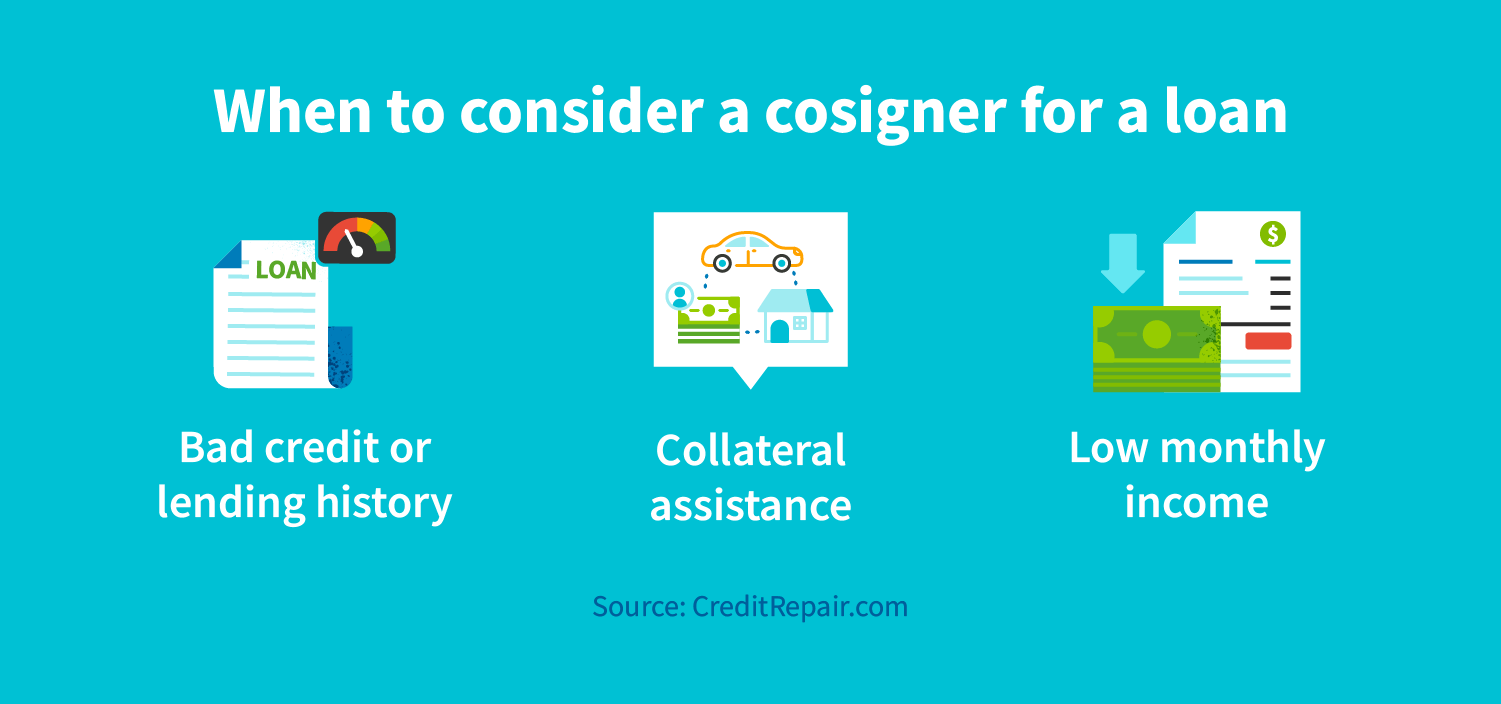 How to find a cosigner for a personal loan
Once you've decided to apply for a loan with a cosigner, it comes time to find the right person to ask to cosign. Read on for how to find the best cosigner to increase your loan approval chances.
It's important to note that no loan is ever guaranteed to get approved, no matter your or your cosigner's credit score and financial history.
Ask someone trustworthy and financially secure
Ideally, your cosigner is someone you know personally and have a mutually trusting relationship with. Cosigning does involve some sort of financial commitment, so consider asking someone with whom you have a strong enough relationship to survive a financial risk—such as a close family member. This could also be a close friend or coworker.
Since your cosigner is signing on to improve your approval chances, you should look for someone with a high a credit score, comfortable monthly income and low existing personal debt. Though there are no rules about what your cosigner's credit score, financial history or income should look like, any score in the "very good" to "excellent" credit range of 740 to 800+ can show lenders that they're a responsible borrower.
Have a plan to pay your loan
Once you've identified someone who would be a good fit as a cosigner for your loan, you should consider putting together a fact sheet with everything your cosigner should know before they agree to cosign for you. Ideally, this should include how much the loan is (including the interest rate), what you'll be using it the loan for and what your repayment strategy is.
You should also have an open, honest discussion about the risks of cosigning and what happens if you're unable to make a payment. Will your cosigner pay on the loan and you pay them back? Will they cover a certain amount of payments before you take them on?
Being upfront about what you need out of a cosigner, even if it's just their good credit score, can help avoid some awkward or frustrating conversations down the road. It also lets your cosigner know exactly what they're responsible for so they can decide whether or not they can take on that responsibility.
When it comes to taking out a loan, it's always important to do your research and be prepared. Whether or not this means having a cosigner for your personal loan is up to you and your exact financial situation. However, be sure to prioritize your financial goals in getting your credit in good shape before applying.
---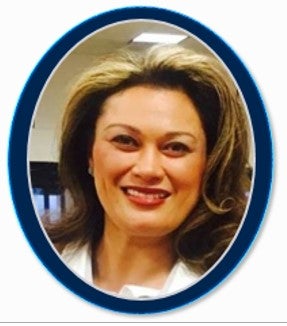 Reviewed by Upuia Sagapolu, Credit Consultant at CreditRepair.com.
Upuia Sagapolu has worked in credit repair for over 17 years. She has a great wealth of knowledge and wisdom concerning the credit repair process. Upuia champions herself as a strong advocate assisting all hard-working Americans towards increasing their credit scores and achieving their financial goals. She is a firm believer that having great credit is essential to a person's credit journey, which is their financial power that leads to their financial freedom.
Note: The information provided on CreditRepair.com does not, and is not intended to, act as legal, financial or credit advice; instead, it is for general informational purposes only.
The post How to get a personal loan with a cosigner: what to know first appeared first on CreditRepair.com.