Disclosure regarding our editorial content standards.
Credit scores are the most commonly used measurement of financial health and creditworthiness. Scored by the three credit reporting bureaus—TransUnion®, Experian®, and Equifax®—credit scores range from 300 (poor) to over 800 (excellent). When it comes to average credit score by city, some cities rank better than others. Recent data has shown that these are the cities with the highest (and lowest) average credit scores in 2022.
*What are the cities with the highest and lowest average credit scores of 2022?
Highest average scoring cities
Ranging from retirement communities to beachfront paradises, these cities top the list with the highest average credit scores.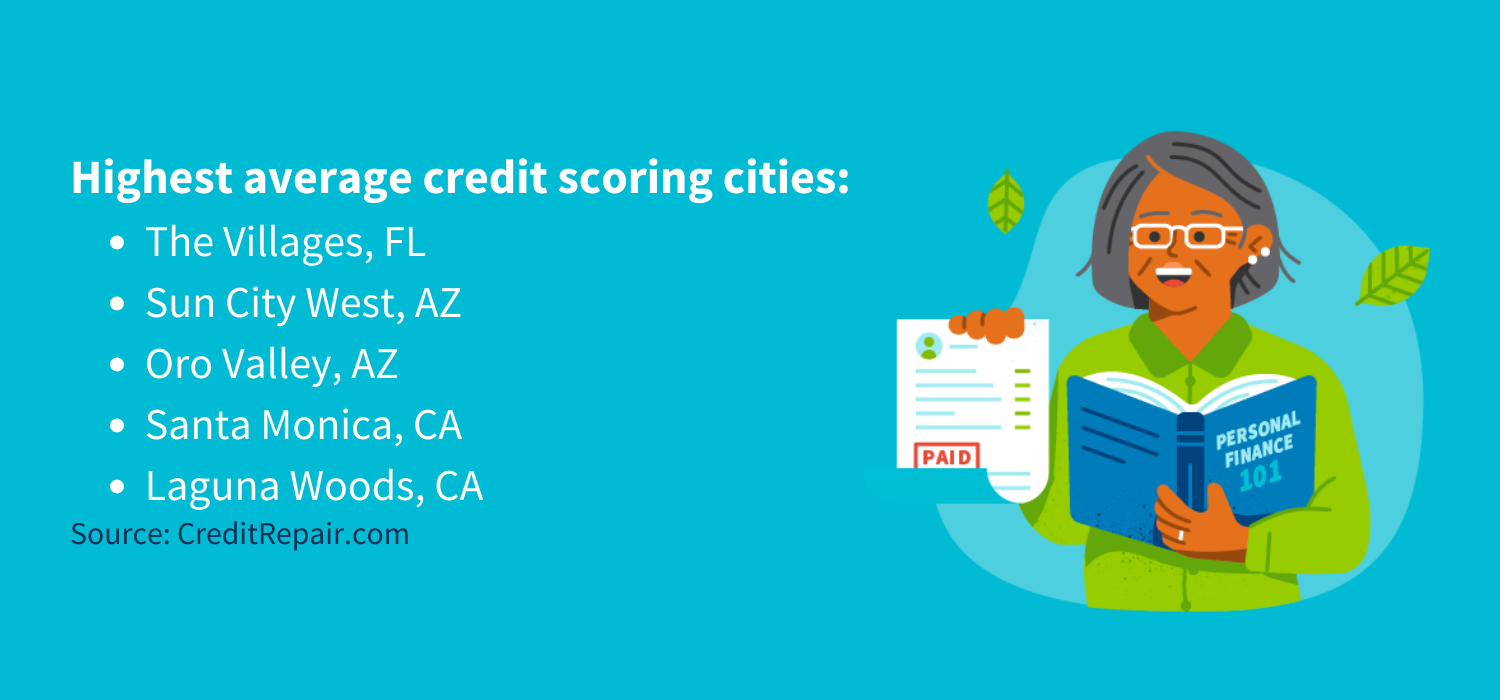 The Villages, FL
Average credit score: 806
It's easy to see why this affluent retirement community boasts the highest average credit score by city in the country. It boasts a median annual income that's 10 percent higher than Florida's statewide average, only 4.5 percent of residents live in poverty and its population grew a staggering 54 percent since the 2010 census. Additionally, older people have an inherent advantage when it comes to credit scores because they often have longer credit histories.
Sun City West, AZ
Average credit score: 792
The second retirement community to make the list, Sun City West is a popular destination for seniors looking to enjoy sunny Arizona. It ranked as the second most desirable retirement location in the country. Median household income and property values have both grown more than 9 percent year-over-year. The financial stability and age of the average Sun City West resident are major factors that explain why the city boasts a high average credit score.
Oro Valley, AZ
Average credit score: 789
This southern Arizona city is located about 15 miles away from Tucson. Oro Valley has a median annual income that's 28 percent higher than the US average, and 42 percent of residents are between the ages of 25 and 64. The median age is 54, which is higher than Pima County's average of 38. Oro Valley's high average credit score likely has to do with its older population, high median annual income and high property values.
Santa Monica, CA
Average credit score: 789
Known for its natural beauty, beachfront views and tourist attractions across its iconic coastline, Santa Monica also has residents with high average credit scores. According to census data, the city's median annual income is $98,300, which is about 25 percent higher than California's average. This high income likely contributes to residents' high average credit scores.
Laguna Woods, CA
Average credit score: 788
Known as a "golfer's paradise," Laguna Woods is home to a thriving 55+ community. The median age is 75.5, and the median annual income is $46,449, which is about half of Orange County's average. Despite this, the age-restricted community still boasts high property values along with its high average credit score.
Lowest average scoring cities
On the other end of the list, we have the locations with the lowest average credit score by city. With scores below 600, the average citizen in these cities is considered to have poor credit, according to Experian.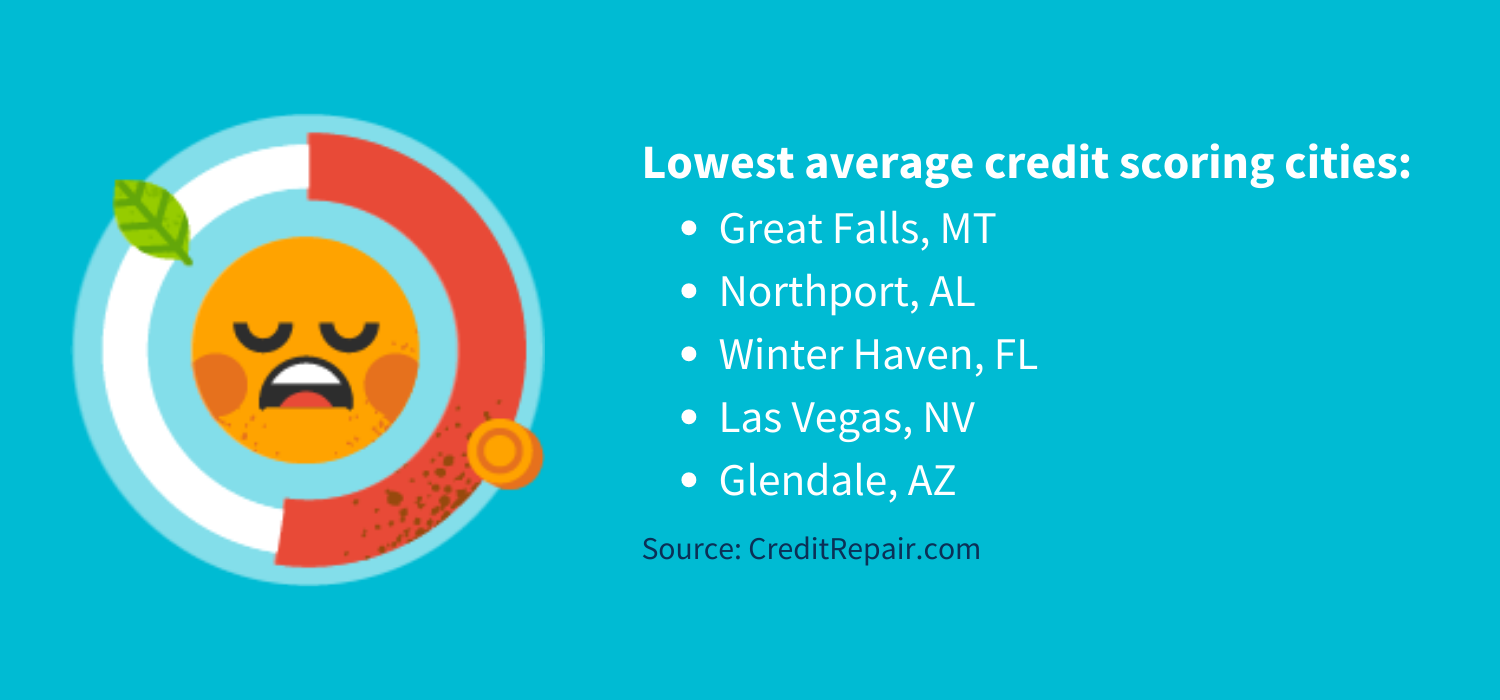 Great Falls, MT
Average credit score: 524
Great Falls is the third most populous city in Montana and is known as the "electric city" because of the five hydroelectric dams in the area. It's a popular tourist destination, with visitors flocking to the city for its gorgeous mountain views along with many museums and art exhibits.
According to the 2020 census, Great Falls also has a median income that's well below the national average, and 14.9 percent of its population lives below the poverty line. This data could explain why the city has a low average credit score of 524.
Northport, AL
Average credit score: 524
Northport is located in Tuscaloosa county, close to the University of Alabama. This small suburban city is mostly quiet, boasting above-average schools and ranking as one of the best places to live in Tuscaloosa County. However, 16 percent of the city's residents live below the poverty line. Sales tax rates and income tax rates are also above the national average. These factors, along with the city's young population, may explain why the average credit score is only 524.
Winter Haven, FL
Average credit score: 524
Winter Haven is located between Tampa and Orlando and draws visitors to its botanical garden, Legoland theme park and many lakefront activities. Winter Haven is a small city, with a population below 50,000 — 16.7 percent of whom live below the poverty level, according to the census bureau. The median household income in Winter Haven is also below the national media income levels This could contribute to the city's low average credit score.
Las Vegas, NV
Average credit score: 524
Las Vegas is known for expansive casinos, lavish dining, and over-the-top glitz and glamour. But one thing Sin City isn't known for is smart money management. Nevada ranks second lowest of all states when it comes to low credit scores and ranks highest for residents with the most credit card debt and delinquencies.
Glendale, AZ
Average credit score: 517
Glendale is the seventh-largest city in Arizona and ranks at the bottom of the list with an average credit score of 517. Despite its low credit scores, Glendale is a city on the rise and currently growing at a rate of 0.94 percent annually, increasing percent since the 2010 census. As the population grows and boosts the local economy, the local average credit score could start to increase.
What factors affect your credit score?
A low credit score can keep you from securing a loan or buying a home. The good news is that the five main factors that affect your credit score are entirely within your control. With a better understanding of what contributes to your credit score, you can make informed decisions to improve it.
The main factors that affect your credit score include:
Payment history
Credit utilization
Length of credit history
Credit mix
New line of credit
How to work on your credit
If your credit score isn't where you'd like it to be, you can take steps to fix it. Working on your credit can seem daunting, particularly if it's been many years since you've reviewed your accounts. By following the steps below, you can repair your credit over time.
Review your report and dispute any errors
Pay your bills on time
Keep your credit utilization low
Keep old accounts open to boost your credit age
Open a secured credit card
Consider consolidating your debt to make it easier to pay off
*Note: Credit score averages are from Wallet Hub's 2022 Cities with the Highest & Lowest Credit Scores report.
---
Note: The information provided on CreditRepair.com does not, and is not intended to, act as legal, financial or credit advice; instead, it is for general informational purposes only.
The post Cities with the highest and lowest average credit scores appeared first on CreditRepair.com.