With the holiday season around the corner, there are many holiday spending statistics from previous years that may be useful to know. For example, knowing what other people are shopping for can help you choose gifts that won't run out of stock. And gauging how much other shoppers are spending can help you estimate how much you may want to spend.
For those who don't just give money for the holidays (maybe you give moments instead), these 25 holiday spending statistics can give you a look into what you can expect while holiday shopping this year.
Holiday sales statistics
Knowing what gifts people are spending their money on can help you make a decision when doing your shopping.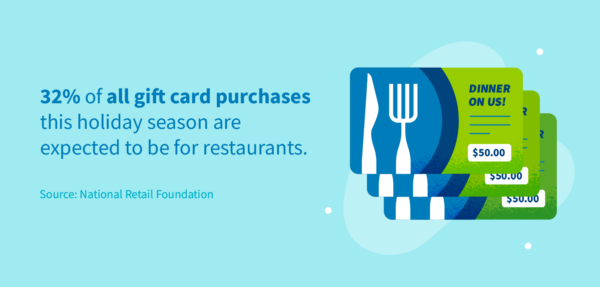 1. Holiday sales are predicted to reach at least $834.4 billion between November and December 2021. (National Retail Federation)
2. 2021 holiday sales are predicted to increase between 8.5 and10.5 percent over 2020 sales. (National Retail Foundation)
3. Shoppers plan to spend an average of $998 on holiday purchases this year. (National Retail Foundation)
4. 56 percent of consumers hope to receive gift cards as a gift this holiday season. (National Retail Foundation)
5. 32 percent of all gift card purchases this holiday season are expected to be for restaurants. (National Retail Foundation)
6. LEGO and Barbie have topped the list of the top children's toys for boys and girls, respectively. (National Retail Foundation)
7. Going into the 2021 holiday season, there is a 172 percent increase in out-of-stock messages. (Adobe)
This year, more products are out of stock than usual due to supply chain issues. Plan your purchases ahead of time, if you can, and be flexible with gift ideas if you can't find exactly what you are looking for.
Holiday shopping behaviors
Every year, companies track the shopping behaviors of consumers to better understand what they're looking for and what they're worried about. Knowing and addressing consumer concerns is the best way companies can keep you happy.
8. 75 percent of holiday shoppers are concerned about products being out of stock. (Deloitte)
9. Almost 70 percent of consumers expect prices to increase this holiday season. (Deloitte)
10. Social media influences the holiday purchases of more than 80 percent of younger consumers, including millennials and Gen Z. (McKinsey & Company)
11. 62 percent of consumers were unable to purchase at least one item on their shopping list due to shortages. (McKinsey & Company)
12. 61 percent of consumers said they plan to purchase from local and independent retailers. (FedEx)
13. 65 percent of shoppers prefer to buy from companies that practice sustainability. (FedEx)
14. 91 percent of shoppers admit to making their holiday purchases at the last minute. (Inmar)
Understanding holiday shopping behaviors can also help you avoid any crowds and make your purchases on time—if not for this season, then for the next!
Online shopping statistics
Over the past few years, online shopping has grown exponentially as more consumers choose to do their shopping from home.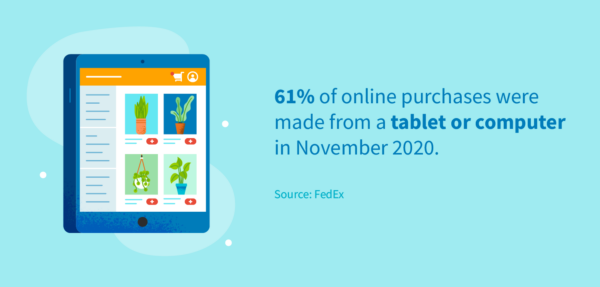 15. This holiday season, 74 percent of consumers plan to shop both online and in stores. (NPD)
16. 73 percent of consumers select standard delivery when shopping online. (Deloitte)
17. 57 percent of consumers plan to make their purchases online this holiday season. (National Retail Foundation)
18. Cyber Weekend spending is expected to account for 17 percent of online spending during the holiday season. (Adobe)
19. 2021's Cyber Monday will be the biggest day of spending in U.S. history, up 12.4 percent from last year. (eMarketer)
20. 61 percent of online purchases were made from a computer or tablet in November 2020. (FedEx)
21. Total online holiday spending reached $188 billion in 2020. (FedEx)
Remember, as more people choose to shop online, the number of in-person shoppers will naturally decrease. Doing your shopping at a retail store may end up being the best option for you.
When consumers are shopping
Every year, it seems like consumers are beginning their shopping earlier and earlier. As more shoppers are concerned about shortages and out-of-stock products, holiday shopping has been inching its way even earlier into the year.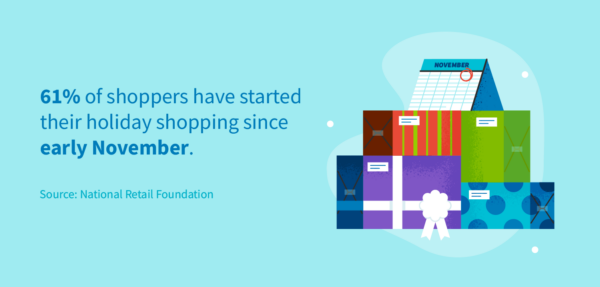 22. Just under half of shoppers took advantage of deals by doing holiday shopping before Thanksgiving. (National Retail Foundation)
23. Almost 2 million more people are predicted to shop from Thanksgiving to Cyber Monday in 2021 than in 2020. (National Retail Foundation)
24. 61 percent of shoppers have started their holiday shopping by early November. (National Retail Foundation)
25. Sales in the period between November 1 and Christmas Eve are predicted to increase by over 7 percent from 2020. (Bloomberg)
Based on these statistics, you may have noticed that a majority of shoppers have already started their holiday shopping, but there are still many who wait until the last minute for their purchases. Holiday shopping can be unpredictable, and that's why starting as early as possible—and assessing your and your family's needs and wants—can prevent future headaches.
Don't forget that credit plays a large role in your holiday shopping. Purchases made with credit cards can affect your credit, both negatively and positively. If you're looking to rebuild or prevent any future issues related to your credit, our credit education resources can set you on the right path.

Reviewed by Elizabeth Whiting, Credit Consultant and Associate Trainer at CreditRepair.com.
Elizabeth Whiting started with CreditRepair.com in the summer of 2018 as an inbound member services advisor. Recognized several times for her outstanding performance, she quickly advanced within the company. Her genuine desire to help people blossomed into joining the learning and development department as an associate trainer in the late spring of 2020. As an advocate for other's success, Elizabeth promotes self-development with her internal peers though education, encouragement and support. Utilizing her credit expertise, she has empowered numerous consumers to continue to work towards resolving difficult credit situations and strive to achieve a lifestyle of greater opportunity.
Note: The information provided on CreditRepair.com does not, and is not intended to, act as legal, financial or credit advice; instead, it is for general informational purposes only.
The post 25 holiday spending statistics: Unwrapping what Americans spend the most on appeared first on CreditRepair.com.